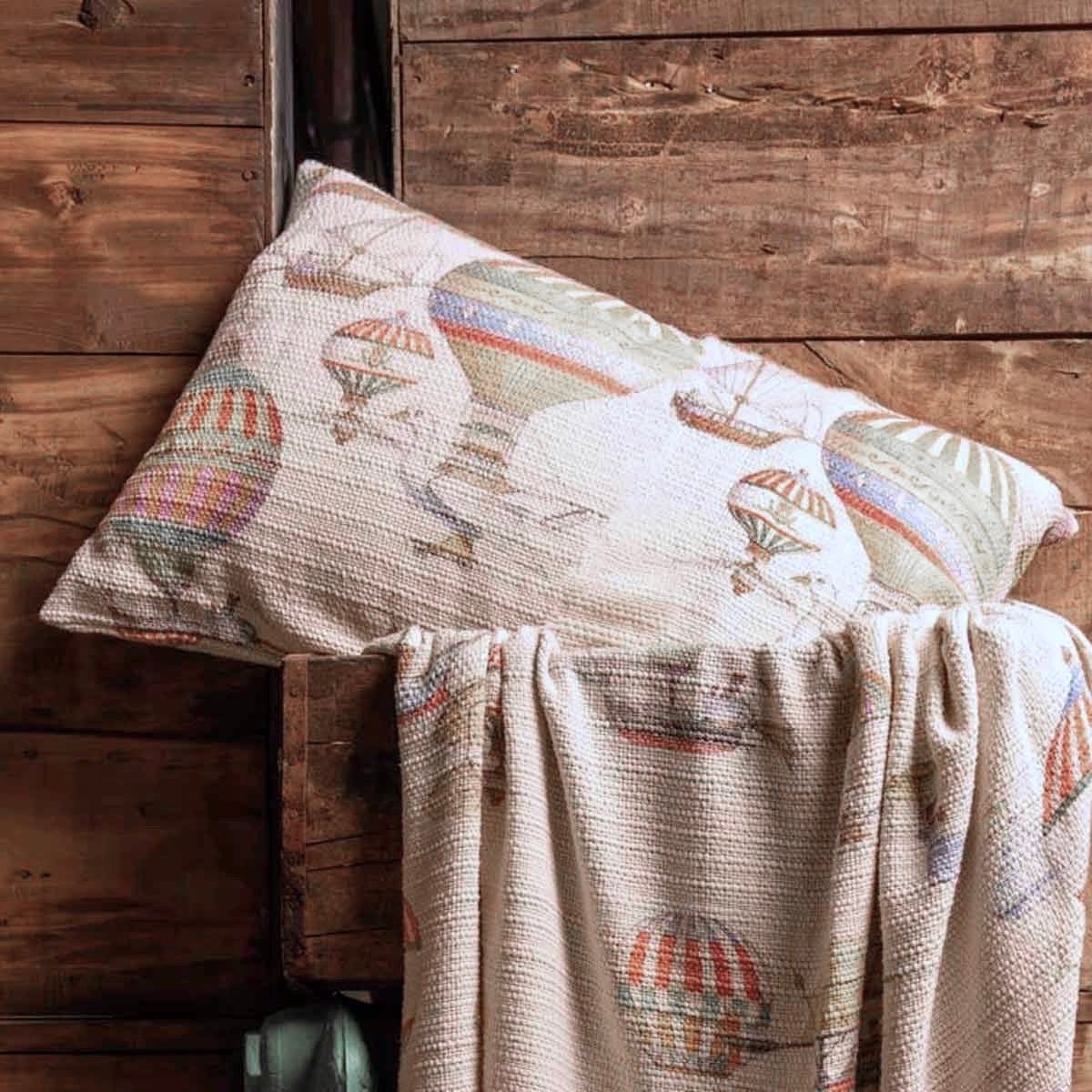 'Flyby' cotton pillow 40 x 60cm
Sale price

$46.00 USD
Regular price

$58.00 USD
(/)
---
Flyby cotton pillow 40 x 60cm
With Flyby you get a dream universe with hot air balloons and beautiful bright colours.

The cotton pillows are woven in the softest cotton and are ökotex-certified, so sustainability is paramount.  
The cushions measure 40x60 cm and the cover can withstand washing at up to 60 degrees. 
Our pillows are of course supplied with filling in the form of a deliciously soft and washable inner pillow.
---
Om Tessitura Toscana Telerie

Rune-Jakobsen Design har agentur på boligtekstilerne fra Weaving Toscana Telerie, der siden 1947 har fremstillet duge, puder, tæpper og sengetøj m.m i bæredygtig og eksklusiv kvalitet fra deres base i Firenze.

Weaving offers and oneivers af eksklusive  boligtekstiler, som bringer dig på en rejse i oplevelse, farver, kvalitet og italiensk æstetik, når det er smukkest - og mest humoristisk.

Textiles published in watercolor paintings


Weaving samarbejder med 15 forskellige italienske designere og kunstnere, der først maler de smukke motiver 

in watercolor colors after which they are transferred to print on either linen or cotton.



All the textiles are woven and sewn in very high quality so that they keep both shape and color wash after wash.



THE HAIR TEXTILES

Flax is the most resistant textile fiber in nature. It is durable and does not lose its shape. It is heat regulating and has excellent moisture absorption properties.

The linen textiles from Tessiturais sustainably produced. At the same time, only European-grown flax is used, which is considered the best in the world due to the climate, the producers' know-how and expertise throughout the production chain.

All linens are made from flax grown by EUROPEAN producers certified by CELC (Confederazione European Confederation of Linen and Hemp)

This means that there is control over the origin of the felt textiles and the cultivation processes, which respect the soil and the ecosystem without fertilizers and artificial irrigation.

 

THE COTTON TEXTILES
White, light and soft cotton is the most widely used textile fiber in the world. Weaving has always chosen only the finest qualities of natural cotton grown in the best production areas in Egypt and the USA.

The main characteristics of the cotton Weaving anvender, er dens lange og ekstremt tynde fibre og dens meget høje modstandsdygtighed. Restprodukter fra produktionen er biologisk nedbrydelige og skader ikke miljøet.

Tessituraproduces certified energy through solar panels over an area of 1500 m2. The annual energy production is approximately 55,000 kWh, which covers approx. 50% of the annual energy requirement. On sunny days, our plant produces 47kWh, and unused energy is returned to the grid as renewable energy.

From the packaging Weaving's productsare made from fabric bags that are plastic-free (PVC, PET, PE, PP) whenever possible. For transparent packaging, they use EVA-certified CSI recycled plastic.
Hør, pleje og vedligehold

The flax plant has been cultivated for thousands of years and is one of the oldest plants that has been used in the manufacture of clothing and textiles.

Linen fabric is made from the flax plant and is 100% natural. The production is sustainable and the result is strong and fine fibers, which are spun into yarn that is woven and dyed into the finished fabrics.

The flax fibers are naturally thicker and stronger than other materials, and are 30% thicker than cotton. This makes it very durable, so you don't have to worry about wear and tear and the more you use your linen products, the softer and more beautiful they become.

To make the best of the amazing features of the flax, we recommend that you follow the following below: Washing and care instructions:

Flax soak in Lukewarm water Before the first wash - preferably overnight (closely woven things like a day or more). This prevents flax fibres from breaking.
Hørprodukter Wash at 60 degrees 
Apply detergents without bleach and optical white;
Centrifugering Should be as short as possible - flax dries quickly of itself.
Hørren smoothed and stretched in a wet state;
Avoid bright sunlight at tørring 
Avoid tumble drying
Can be ironed or rolled before completely dry
Count on 5-7% shrink on both joints

Tips 

Tablecloths/runners - Roll the slightly damp linen cloth/runner smooth and tight around a plastic tube and let it finish drying!
Tea towels - soak in cold water for 24 hours before the first wash - then they quickly become really good with high absorbency!
Dried red wine stains - Dab a little glycerin on the stain, put it all in a plastic bag overnight, then wash at 60 gr. 
Other spots- Use dishwashing liquid without color, put it all in a plastic bag overnight, then wash at 60 gr.

 Here's how to best care for your flax products:

Linen is best washed at max. 40 C coloured wash or possibly. on wool program at 30-40C, with liquid wool wash or special wash. No tørretumbling!
Linen doesn't need to be washed nearly as often as other materials! You can treat your hair product like wool and just hang it for airing
Linen becomes delicious and soft from drying outdoors in a light breeze - Avoid direct sunlight.
You don't have to iron (but of course you can) - the natural undulating expression is part of the charm of linen products.
All of them. woodworks Products are produced on order so you should expect a delivery time of approx. 15-20 business days before we can send your order.

During peak load periods and when ordering furniture, longer delivery times are expected. These appear on the product pages in the webshop.

Delivery times fluctuate considerably over the year, so if you wish to inquire about the current delivery time before ordering, please feel free to contact me Telephone:☎! Or or Mail - You get a delivery estimate.


Delivery times
spicegrinders From Alexander Mills And housing textiles Tessitura Toscana Telerie. Is in stock and shipped within 2-3 working days.

We answer all emails and calls - also international. If we are not by phone or email, you can expect answers within max. 60 minutes on weekdays.

//

DISCLOSURE & SUPPLY


Danmark 🇩🇰
49 kr. to the parcel shop or DKK 69 if you want it delivered directly to your address. Free shipping on purchase over 2,500,-

European Union 🇪🇺
Shipping from 12€. Shipping costs are calculated based on weight

United States of America 🇺🇸
From $35USD. Shipping costs are calculated based on weight

Canada 🇨🇦
From $55 CAD. Shipping costs are calculated based on weight

Australia 🇦🇺
From $85 AUD. Shipping costs are calculated based on weight

New Zealand 🇳🇿
From 110$ NZD. Shipping costs are calculated based on weight

United Kingdom 🇬🇧
From 15 GBP. Shipping costs are calculated based on weight

Switzerland🇨🇭 / 🇱🇮 Liechtenstein
Ab 26 CHF. Shipping costs are calculated by weight

Sweden 🇸🇪
From 135 SEK. Freight cost is calculated based on weight
Free shipping on purchase > 4 000 SEK

Norge 🇳🇴
From 175 NOK. Freight costs are calculated by weight.
We are registered with Norwegian VOEC number 2060051 and collect VAT on products sold to Norway. Free shipping on purchase > 4 000 NK

Rest of the world 🌐
From $ 45USD. Shipping costs are calculated based on weight. If you come from a country for which the webshop cannot calculate shipping, you are welcome to contact us for a shipping quote

We don't charge VAT on Non- EU orders (except from Norway). Customs, VAT and import duties may therefore be imposed orders delivered to countries outside the EU

Shipping costs may differ for shipping of furniture and orders exceeding 10 kg to EU / Non EU contries. Therefore, please contact us before ordering to get specific shipping costs on bathtubs, showcases, heavy chopping boards etc. Send inquiry about shipping costs on specific products.
Leveringstider og produktinfo, boligtekstiler

Rune-Jakobsen Design Is the stockholder of the Italian housing textiles Tessitura Toscana Telerieand Knitted or crocheted

Delivery time 2-3 working days.

SHIPPING & DELIVERY


Denmark 🇩🇰
DKK 49 to the parcel shop or DKK 69 if you want it delivered directly to your address. Free shipping on purchases over NOK 2,500

European Union🇪🇺
Shipping from 12€. Shipping costs are calculated based on weight

United States of America🇺🇸
From USD. Shipping costs are calculated based on weight

Canada 🇨🇦
From CAD. Shipping costs are calculated based on weight

Australia 🇦🇺
From AUD.Shipping costs are calculated based on weight

New Zealand 🇳🇿
From 110$ NZD. Shipping costs are calculated based on weight

United Kingdom 🇬🇧
From 15 GBP. Shipping costs are calculated based on weight

Switzerland🇨🇭 / 🇱🇮 Liechtenstein
From CHF 26. Shipping costs are calculated by weight

Sweden 🇸🇪
From SEK 135. The shipping cost is calculated based on weight
Free shipping on purchases >4 000 SEK

Norway 🇳🇴
From NOK 175. Shipping costs are calculated based on weight.
We are registered with Norwegian VOEC number 2060051 and collect VAT on products sold to Norway.Free shipping on purchases >4 000 NOK

Rest of the world 🌐 
From $ 45USD. Shipping costs are calculated based on weight. If you come from a country for which the webshop cannot calculate shipping, you are welcome to contact usfor a shipping quote

Wedon't chargeVAT on Non-EU orders (except from Norway).Customs, VAT and import duties may therefore be imposed orders delivered to countries outside the EU

Shipping costs may differ for shipping of furniture and orders exceeding 10 kg to EU / Non EU contries. Therefore, please contact us before ordering to get specific shipping costs on bathtubs, showcases, heavy chopping boards etc. Send inquiry about shipping costs on specific products.

 

PRICES
All prices in the webshop can be displayed in local currencies. All transactions take place in DKK at the current exchange rate.All prices are incl. 25% VAT / Non EU countries can trade VAT free.Customs and import duties may be imposed if you order from a country outside the EU

PAYMENT 
The account information you enter when purchasing goods is sent in encrypted form (SSL) which only you and the purchaser can read. Thus, no one else sees or stores the information about you.

Your payment is reserved on your account immediately after placing the order and when it was orderedproduct is manufactured specially at your request is raisedthe purchase amount after a few days - i.e. before dispatch. If you regret your purchase, we will of course refund the full purchase amount.

We accept payment with Anyday.
With Anyday, you can split your payment. You pay the first installment when the item is ordered, and the remaining amount is paid over the following 3 months. Anyday is free for you as long as you pay on time. With Anyday, you get an account that you can use at all webshops that offer payment through Anyday. Read terms for Anyday here:

Right of withdrawal and return 
If you regret your purchase, we will of course refund the entire purchase amount including shipping costs etc.

You (or recipient of the product) have 30 days after receipt to notify us that you regret the purchase, and then you also have 30 days to send it back. In the case of gifts, 30 days count from when the recipient receives the gift.

Complaint
Rune-Jakobsen.dk provides, according to the Sales Act, a 2-year right of complaint from the invoice date for manufacturing and material defects (missing). The right of complaint does not cover errors, damage or wear and tear, directly or indirectly caused by incorrect operation, incorrect maintenance, violence or unauthorized intervention.

The invoice must be presented to Rune-Jakobsen.dk in connection with the application of the complaint.

Any complaints about defects in delivered products must be made to Rune-Jakobsen Design within a reasonable period of time after the Buyer has or should have discovered the defect. Otherwise, the Buyer loses his right to claim the defect.

Subject to change:
Rune-Jakobsen Design reserves the right to continuously change and update prices, terms and conditions.

Contact

 

READ MORE
Om Rune-Jakobsen Design

'Rune-Jakobsen Design' Is a Danish brand, since 2016 has designed and manufactured exclusive handmade housing equipment and kitchenware for Danish and international customers.

We also have an agency on the residential textiles from Italian. Tessitura Toscana Telerie. And the handmade spicegrinders From Alexander Handmade Mills And kitchen knives, Ansø of Denmark gastro and mknives - Yeah. moustache

In scenic surroundings far out in the countryside in Østhimmerland, we have created the ideal framework for the company with a focus on personal customer service and our passion for artisanal quality.

The Small Difference That Makes a Difference

At 'Rune-Jakobsen Design' we mean it seriously when we manufacture and select products according to the motto: CRAFTED NOT PRODUCED!

- We make an effort, so that's why all the products in the shop have their own DNA.



We give priority to personal customer contact, then you want a tailor-made product, or if you have questions about our other products you are always welcome to

Small

Or

Send an email



Best regards

Kari & Torben Rune-Jakobse


Du er altid velkommen til at kontakte os på:
All product photos are genuine photographs of the concrete products and designs. However, some photos have been added in Interior and surroundings, created using artificial intelligence to create mood and put the product into context.

If you have any questions, please feel free to contact us at: Mail Or telephone +45 4243 43933
Betingelser og vilkår

Right of withdrawal and return:

If you cancel your purchase, we will refund the entire purchase when the item is returned to our shop.

You (or the recipient of the product) have 30 days after receipt to inform us that you regret the purchase, and then you have another 30 days to send it back.

Order Return Here:

The right of withdrawal applies to all standard products in the webshop.

The right of withdrawal and return for custom made products in special measurements as well as bathtubs and bathtubs are only applicable, where a specific (written) agreement has been reached.

For cabinets and bathtubs:

We charge a non-refundable deposit of 30% of the purchase amount upon ordering.
If you cancel your purchase, we will refund the purchase amount excl. 30% deposition
You (or the recipient of the product) have 30 days after receipt to inform us that you regret the purchase, and then you also have 30 days to send it back.
Purchase amount excl. The deposit is refunded once the product has been returned and received in unsafe condition.


Complaint

Rune-Jakobsen Design Provides, according to the EU The Purchase Act 2 years right of claim from invoice date for manufacturing and material defects EU Customers. The right of complaint does not cover errors, damage or wear and tear, directly or indirectly caused by incorrect operation, incorrect maintenance, violence or unauthorized intervention.

The invoice must be presented to Rune-Jakobsen Design The application of the complaint.

Any complaint of deficiencies in delivered products must after the buyer has or should have discovered the deficiency Rune-Jakobsen Design Within 14 days. Otherwise, the buyer loses his right to claim the defect.

Bestilling

When ordering products Rune-Jakobsen Design Please provide at least:

• Name:
• Address
• E-mailaddress
• Phone/mobile number

The above data is stored with information about the products you have purchased for 5 years from the end of that financial year, the information relates, cf. Section 10 of the Accounting Act, according to which the information is deleted.

Information shall not be disclosed or sold to third parties; unless this is done in the course of a restructuring or partial sale of the undertaking. Any disclosure in such a situation will be in accordance with the personal data law applicable at all times.

As a customer, you have access to our recording of data about you, and you can object to a registration in accordance with the rules of the Law on the Processing of Personal Data and Request for Relations. hereby address torben@rune-jaobsen. dk

Cookies
The website uses cookies.

Cookies are small text files that are stored in your browser when you visit my website. Cookies help us gain a better understanding of how you use our website as well. By remembering what products you have put in your shopping cart; or Which pages you have visited and how much time you have spent on each of them. Cookies can also be used for marketing and search results.

Legal notice

Our products are created with the utmost attention to detail and are of premium quality standards. However, as with any products, there are limitations and things to be aware of.

First and foremost, we want to advise that our products are intended for general use and are not designed for any specific or hazardous use. We cannot be held liable for any damages or injuries caused as a result of using our products in a manner that they are not intended for.

Furthermore, some of our products may contain small parts that could pose a choking hazard to young children. Therefore, we recommend that all of our products be kept away from young children and babies.

Finally, while we strive to ensure that our products are as accurate as possible, there may be minor discrepancies in color or design due to variations in screen settings or human error during production.

By purchasing and using our products, you acknowledge and agree to these terms and disclaimer. If you have any questions or concerns, please do not hesitate to contact us.

Rune-Jakobsen Design is the sole owner of all the intellectual property rights of the website ( www.rune-jakobsen.com ).

Any attempt to copy or reproduce the content (including text, images, graphics and designs) of the website without the prior written consent of Rune-Jakobsen Design will be regarded as an infringement of our client's intellectual property rights.

We ask that you refrain from engaging in any activity that may harm our business interests, including but not limited to hacking, spamming, scamming or phishing.

Please be aware that any violation of our intellectual property rights or online security will be dealt with the full extent of the law, and Rune-Jakobsen Design reserves the right to pursue legal action for damages and/or injunctive relief against any and all parties involved.

Additionally, please note that any use of Rune-Jakobsen.com's trademark or logo without permission may constitute trademark infringement under applicable law.

Rune-Jakobsen Design
CVR: DK27029167
VOEC: 2060051
COUNTRY OF ORIGIN: GB08618398000

Torben Rune Jakobsen
Tiendemarken 14 A, Gudum
9280 Storvorde
Denmark

Reservations for changes:
Rune-Jakobsen Design Reserves the right to amend and update the terms and conditions applicable to this website. It is therefore important that you keep yourself informed of any changes.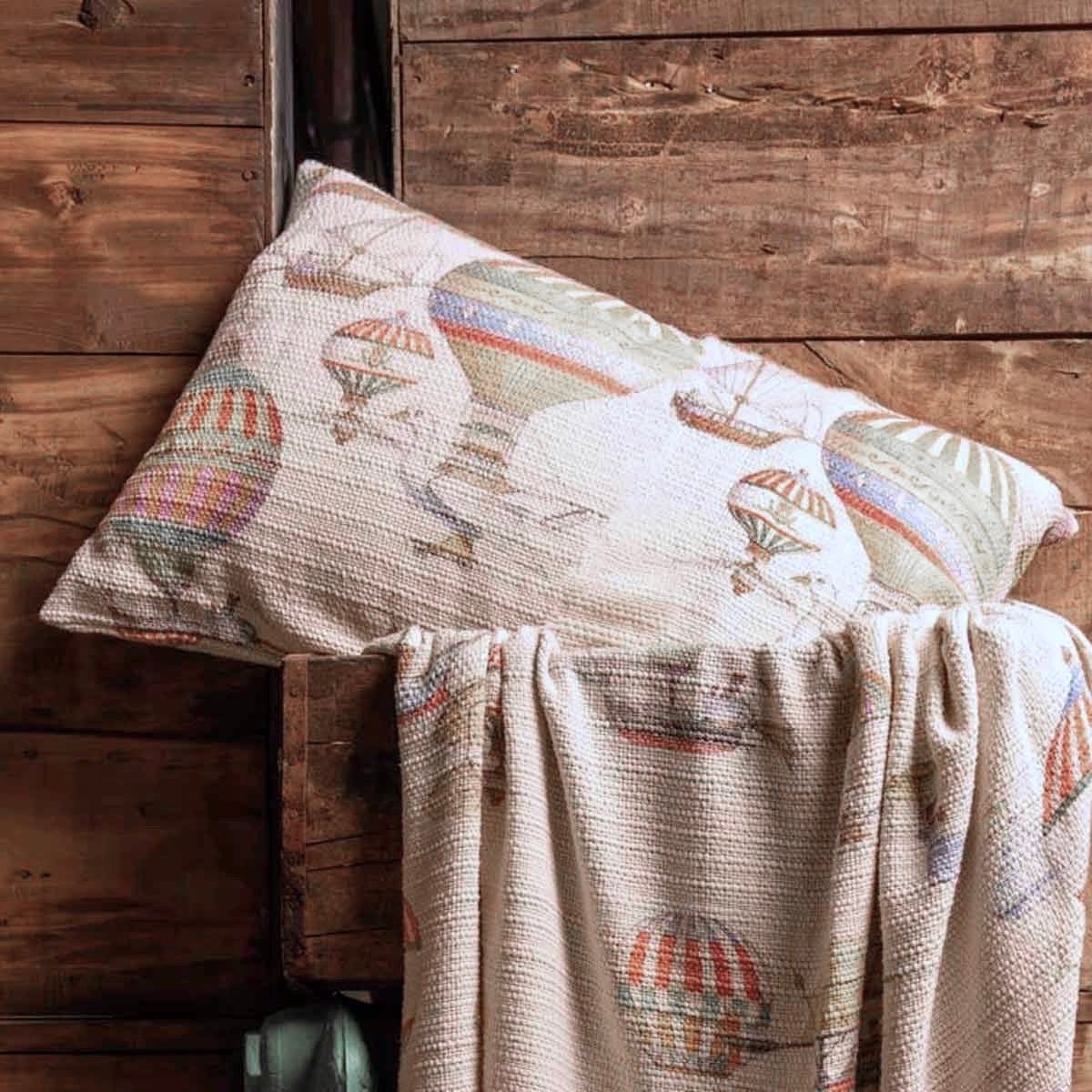 'Flyby' cotton pillow 40 x 60cm
Sale price

$46.00 USD
Regular price

$58.00 USD
Choose options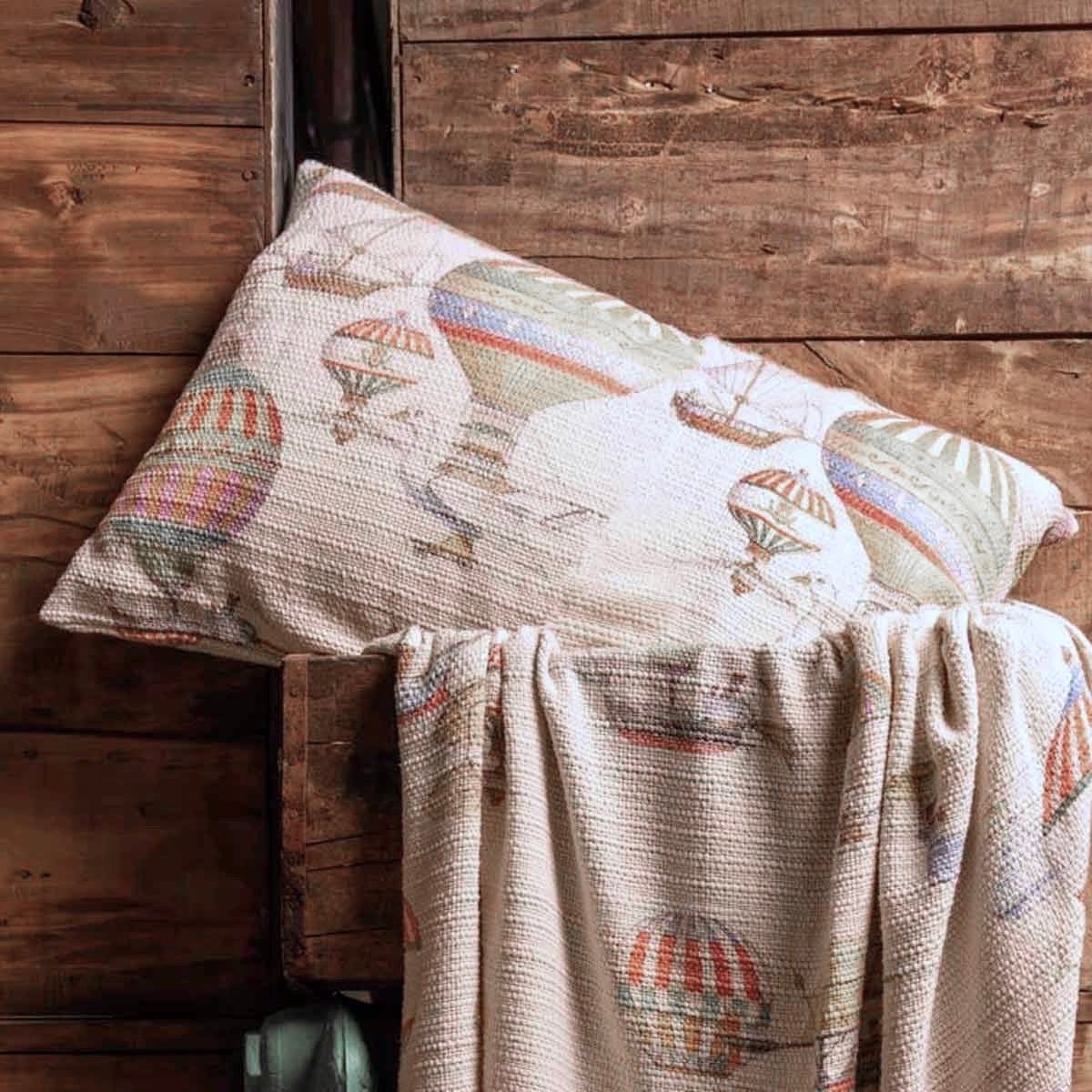 Sale price

$46.00 USD
Regular price

$58.00 USD
(/)
---
---
View details